Now that I know I'm making the creature out of tentacles, it all feels much clearer.
I sat down to draw a new sketch: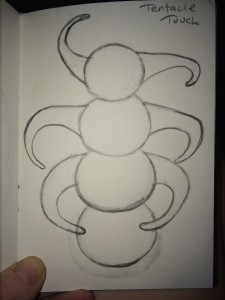 and then made a model out of sculpey clay (clay that doesn't dry up till you put it in the oven. and then you can burn it at you oven at home:


I always like to make my first testing out of foam core. It's a quick cut, cheap and quick to assemble. I'm trying to connect all the pieces from a simple puzzle method, where all the pieces just "click" together.
This is the first mounting attempt:


After a few attempts I cut it out of 0.1" plexiglass, ready to test it out with the motors


They are just 2 pulleys. One pulley controlling the left-right movement, and one pulley controlling the up-down movement. Combining them together, gives us the tentacle movement.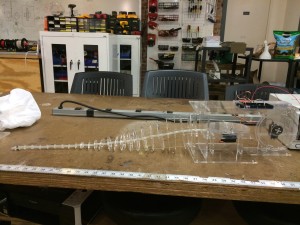 First motor attempt:
Tentacle Test movement_01 from Talya Stein Rochlin on Vimeo.
More attempts:
Tentacle Test movement_03 from Talya Stein Rochlin on Vimeo.
And some more attempts (trying to teach it to hug when touched):
Tentacle Test movement_05 from Talya Stein Rochlin on Vimeo.
The way sorvo motors work- they go from one angle to the next.
When I'm touching a conductive switch, the tentacle thinks it's touched, and it's trying to hug.
It's all very junky, and much more work is ahead, in order to get organic smooth movement. Though this is going in a good direction.
The open source files can be found here:
Tentacle
Pulley
Mounting
Arduino